Greetings readers and fellow history-lovers.
Well, I'm back from my adventures across the sea, and I had an amazing, blessed time.
I tried to keep you all up-to-date via the Instagram feed, but my Peloponnesian connectivity was a bit dodgy.
Needless to say, I've got a tonne of pictures and some video which I'll be sharing with you over the coming months.
I didn't get to all the sites I wanted to see, but I did manage to visit the ancient theatre and agora of Argos, which I've wanted to see for years. I also made return visits to the theatre of Epidaurus, as well as the Sanctuary of Asclepios there. In Athens, I made a return visit to the Acropolis, and the new museum which was amazing.
Normally, I would have taken in many more sites, but this trip was more about family and friends for me. That said, just driving across the landscape in Greece, or swimming in the turquoise sea, is not only inspiring, it's also a form of research. This ancient landscape, especially in the Peloponnese, remains relatively unchanged, from the incredible light and colour, to the flocks of goats and sheep bounding up mountainsides, to the whirring of cicadas in the dry, pine-scented heat. You step back in time in rural Greece.
I'll share my experiences of the sites and more with you in future blog posts.
As for the book I had planned on finishing, well… let's just say that the goal I had set myself was unrealistic. I managed to finish about a third of Heart of Fire, and I'm happy with that. Here's why:
For the first half of the trip, I was getting up at about 7 am every morning to write outside for a couple of hours, but, as the 'schedule' began to fill with visits from dear friends and family I hadn't seen in a long time, it became harder to squeeze in the writing time. Worse, I began to stress about getting that writing time!
That's when I had an epiphany.
I realized that my vacation was slipping by, and that I was wasting my precious time worrying and not relaxing. After all, isn't that what vacations are for?
I also remembered that, in the past, I wasn't trying to squeeze in writing while on vacation. I was always absorbing the history, the sights, the smells, and the feel of the world around me.
The writing was always something that came afterward, when I was missing the places I had been to, reviewing my mental tapes of the entire odyssey. I forgot that I would have an acute case of the 'Aegean Blues' after my trip, and that this would be something I could use well after the fact.
So, about half-way through my trip, I stopped worrying and began to absorb and enjoy much more. I wrote when I could, but I just let it go if the day was not conducive to it – plenty of time to write afterward.
I'm happy with what I've written of Heart of Fire so far, though as often happens when writing historical fiction, there are a few research gaps I need to fill in. That's fine, as it keeps me immersed in the period.
This was a wonderful holiday and it reminded me what a lovely country Greece is, the land, the sea, the history, the people. I miss it already, and I can't wait to go back.
I'm struggling now, back in my cubicle. Honestly, who wouldn't? But I'm writing full speed ahead.
On Friday, I finished the first draft of an Eagles and Dragons series prequel novel which I have kept secret till now (more on that to come!). It's called A Dragon among the Eagles.
Now, I'm going to stay put in the year 396 B.C. and Heart of Fire, until the story is completed.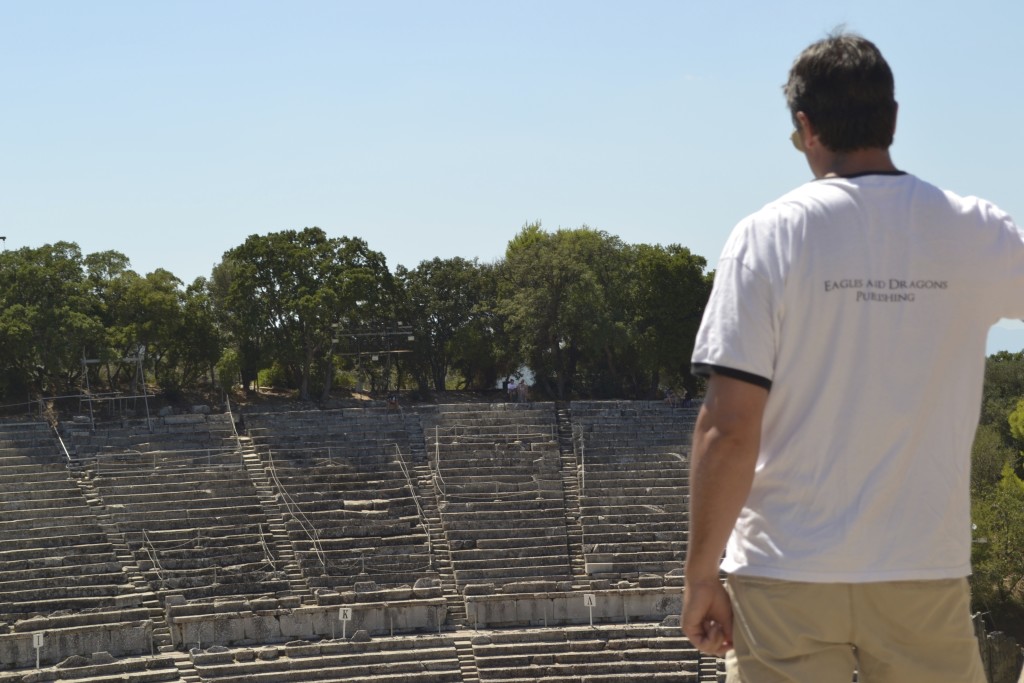 That's the update for now.
Thanks for following along, and thank you for reading!