Summer is dead, it's golden sun-splashed days relegated to the realm of distant memory.
I've been writing a lot, focussing on Eagles and Dragons Book III – Warriors of Epona. The first draft of that book is finished and, like idyllic, warm summer hours, it will now be set aside for a while.
October has arrived and, as is usual, my thoughts have turned dark. What else can you expect from the month in which the trees shed shrivelled leaves, the month in which our ancestors believed the dead walk among us?
It should come as no surprise then that I am now drawn back into the Carpathian Interlude.
Part II of the series is called LYKOI (pronounced 'LEE-kee'), and it will soon be ready for release. LYKOI promises to take the reader to a dark, horror-filled place that would fill any Roman legionary with fear.
In the ancient world, men of war could be especially superstitious. When major disasters or defeats would occur, many would seek explanations that our modern minds might see as supernatural.
Fear of foreign gods and darker powers beyond the realm of their knowledge was not uncommon. When you control the greatest army the world has ever seen, and you experience a crushing defeat, you naturally look for an explanation.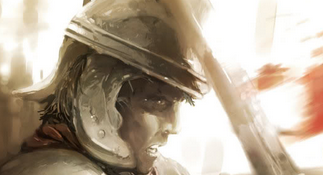 It is precisely this fear and superstition that inspired me to write the Carpathian Interlude series which, from the larger perspective of the Empire, revolves around one particular event – the Varus Disaster. I'll talk about that event next week.
Writing historical horror has allowed me to do something different with historical fantasy. It has allowed me to experiment a little, to explore different types of character trauma and beliefs. It's a nice change of pace and an opportunity for me, as a writer, to dip into some darker themes.
In IMMORTUI, the first part of the Carpathian Interlude, Gaius Justus Vitalis and his men head into the Carpathian Mountains in search of their comrades who were on a patrol north of the Danube frontier. There they meet an enemy unlike any other they've ever met – Zombies.
In LYKOI, Gaius Justus Vitalis and his group of 'broken' warriors are ordered to investigate the massacre of thousands of Romans in Germania. But this time, it's not the undead that Gaius and his men must face.
If you like Werewolves, this is a story you won't want to miss.
So, when will LYKOI be released?
October 25th, 2014 is the official launch day for this book – something new to add to the Halloween reading list!
For now, I'm very pleased to unveil the cover for LYKOI – Carpathian Interlude Part II…

Many thanks once again to Laura at LLPIX Photography for putting together a suitably-dark cover.
I hope you like it.
So, off we go on another journey into the past. Be sure to keep your faith and your gladius close, my friends. You're going to need them.