This week I want to introduce you to a castle that is new to me – Nunney Castle in Somerset.
Unlike South Cadbury and Tiverton Castle, I had never been to Nunney Castle before. In fact, I had never heard of it until I was doing a bit of research for the trip and stumbled across a short listing in an old book of castles I have.

Somerset is not really known for its castles. Manor homes, Iron Age hill forts, and monasteries, yes, but not Medieval castles as most people imagine them to be.
That's why I was so happy to find out about Nunney, and subsequently insert it on the itinerary after a visit to the small (smallest in England!) city of Wells where I used to work.
However, before I get into the specifics of my visit to Nunney Castle, we should, as is our habit here, look at a bit of the history of the site.
Nunney Castle was first built by the knight Sir John de la Mare (1320-1383) under a royal licence granted to him in 1373 by King Edward III.
You see, Sir John, like other knights of the time, was a veteran of the English forces fighting in France during the 100 Years War, and it was with the small fortune he had amassed there that he was able to pay for the building of Nunney Castle.
He did rather well for himself, and after his service in the war, he became High Sheriff of Wiltshire in 1374, High Sheriff of Somerset and Dorset in 1377, and also attained the title 'Knight of the Shire' in both Wiltshire and Somerset. The latter was the formal title for members of parliament representing a county in the medieval Parliament of England.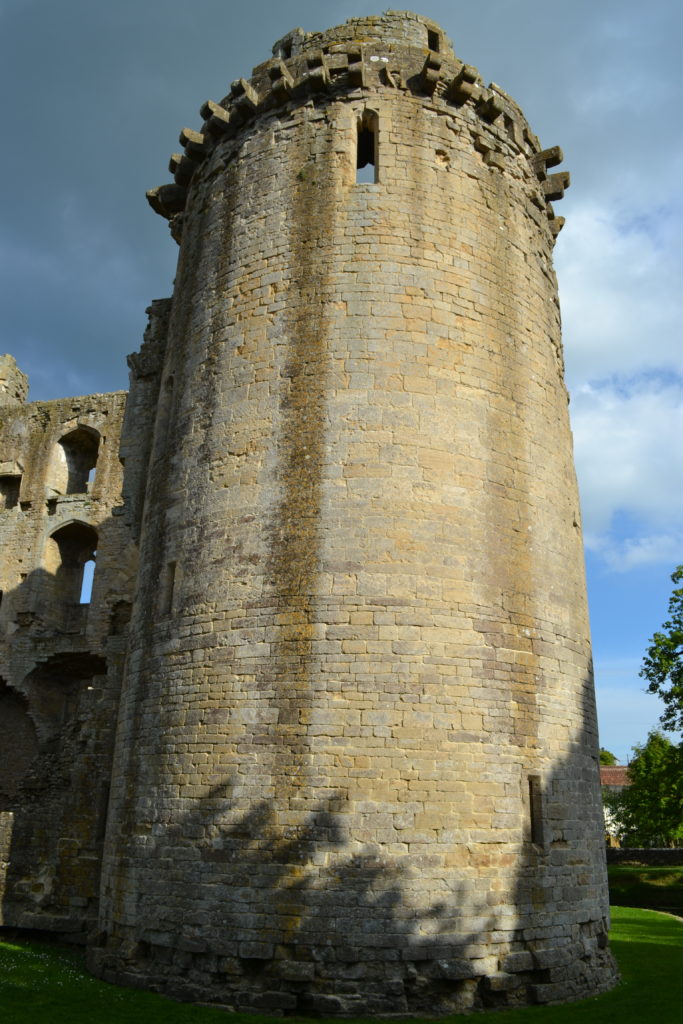 The castle that Sir John built was an ideal stronghold for serious defence, in addition to being a symbol of his power in the area.
It was built on what is called a 'four-lobed plan' and encircled by a moat, with machicolations and battlements running around the top. On each of the four towers, there were conical rooftops. Some believe that the design of Nunney Castle was heavily influenced by French castles which Sir John would have encountered while fighting across the Channel.
It has been pointed out that the design of Nunney is similar to that of the Bastille in Paris, particularly the machicolations.
After 1560, Nunney Castle passed into the hands of another family when it was bought by Richard Prater, a rich Londoner and Catholic who allowed Nunney to be used as a refuge for fellow Catholics during the Civil War.
However, as with Tiverton Castle, it was besieged and ruined by the Parliamentarians during the war.
It wasn't until about 1926 that Nunney Castle came under state guardianship and cleared of plants and rubble.
I have to admit I was extremely curious about Nunney when we set out from Wells on a sunny, windswept day in Somerset.
Nunney is about fifteen miles south of Bath, and from Wells it was a fourteen mile drive, by way of Shepton Mallet.
This was a small corner of Somerset that was unfamiliar to me. The drive was lovely, the road weaving over hills, through farm and pasture land, and around clumps of forest. With puffs of white cloud racing across the blue, sunlit sky, there was a kind of odd light as we went. It was almost too bright and colourful!
When the sat nav voice told me to take a hard left and then a hard right, we found ourselves on a narrow country road. As ever, I hoped I wouldn't meet a tractor head-on!
We continued on through the forest-flanked lane for a mile or two until we came to a tiny village. This was Nunney.
I expected to see the castle looming over the rooftops, but I saw no such thing. I drove farther into the village until we came to Castle Street and parked. Still no sign of the castle until I got out of the car, and took a few steps to the end of the short lane.
There it was, moat and all, jutting out of the village like a stone swamp monster.
Nunney Castle really is a beautiful piece of architecture, said to be 'the most aesthetically pleasing castle in Somerset'.
And it's true, though there aren't that many medieval castles in Somerset. Still, I was impressed with the apparent strength of its walls and the sheer, squat size of it. It's also quaint, though that may be due to the fact that it's closely bordered by private homes that come almost to the edge of the moat.
Some villages have small parks or gardens in their midst, but Nunney has a castle! What a view out of your window as you have morning coffee!
My eyes were drawn immediately to the moat, the black and green water a bit of a warning to those who might get too close. You certainly wouldn't want to fall in there!
Once you cross the bridge, on the spot where the drawbridge would have been, you are even more struck by the high walls, the curve of the four large towers, and the remains of the castle's various levels.
Ignoring the detritus of chips and candy no doubt left by bored local teens who hang out in there, I stepped into the middle of the ruins and looked up.
It was as if the castle came alive then.
The fireplaces on the side walls began to crackle, and the voices of sentries upon the battlements snaked their way down the curving stairs of the towers. Somewhere above, the residents dined where pigeons now flutter back and forth from one tower to the other.

I was glad we had the place to ourselves, and I suspect that if any of you do visit Nunney Castle (did I mentioned there is no charge for entry?), you will find the same.
It's quite special when you have an historic site to yourself.
I enjoyed exploring it slowly, taking photos and trying to imagine what it was like in its full vigour. This was a little difficult, surrounded as it was by the sleepy village homes, structures that were not there in the castle's heyday when Sir John was bound to protect the villagers about his keep.
Now it's as if the villagers' homes protect the castle, huddled close about it, keeping it secret and safe.

After exploring the interior from the ground level, I went back outside and walked around the perimeter of the walls.
It was hard to imagine the Parliamentarians bombarding the castle in such a sleepy place; it's easy to breathe calmly at Nunney Castle now.
I suspect it was not the same for Richard Prater, his family, or the Catholics who had taken refuge within when the cannon had been turned on these pale stone walls.
In all, the short visit to Nunney Castle was a real treat and I would recommend it if you are in Somerset and looking for a quiet break away from the busier tourist destinations.
It's worth the drive to explore this little-known site in the heart of this beautiful county.
Thank you for reading.