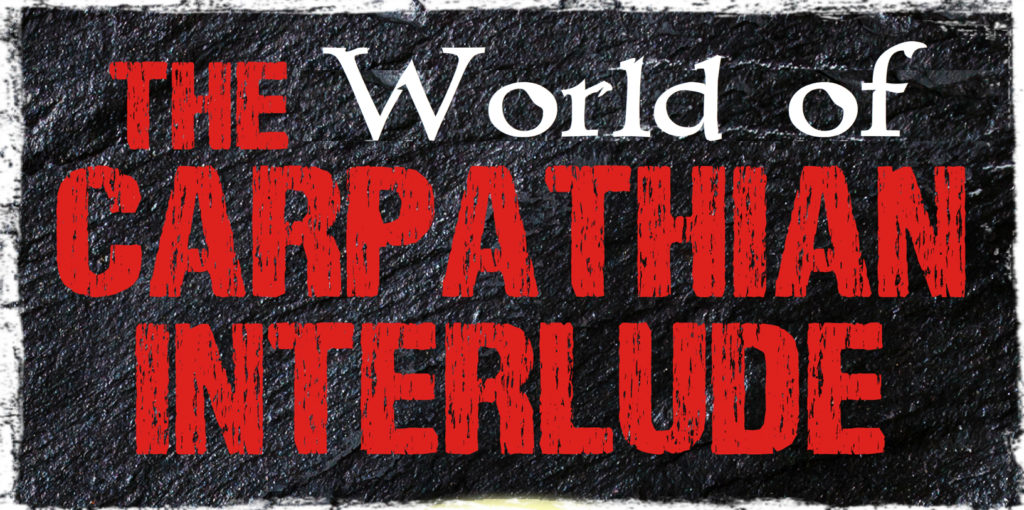 In Part V of The World of The Carpathian Interlude, we are going to explore one of the aspects of horror in the series, to meld ancient history and belief with fantasy.

As we know, Emperor Augustus' three legions, under the command of Publius Quinctilius Varus, were slaughtered in the forests of Germania in an unprecedented defeat for Rome. Fear has a stranglehold on the Roman world at this time, including the emperor, and everyone looks to place blame, to find an explanation.
As Cassius Dio said, it… could have been due to nothing else than the wrath of some divinity.
What else could it have been?
The omens were terrible. According to ancient sources, the temple on the Field of Mars in Rome was struck by lightning, locusts invaded the city, and a statue of Victory in the north turned its back on Germania. Surely a bunch of German barbarians under the command of a traitor could not have done this alone? A god must have been involved!
Or something else…
This situation is something that the historical fantasy novelist truly relishes. The opportunity to put hindsight and modern doubt aside, and step into the mindset of the ancient world, replete with all of its folk and religious beliefs, its strong superstitions and maybe, just maybe, some ancient knowledge of which we are completely ignorant.
What if Arminius and the Germanic tribesmen received help from someone…something…who also had an interest in halting Rome's northern advance?
Lykoi is the Greek word for 'wolves', and in The Carpathian Interlude they are not the shy, intelligent, loyal, and enigmatic animals we know them to be today.

Throughout history, the wolf has been demonized and hunted to the point of extinction in most of Europe. Every child in the west has grown up with stories of evil wolves haunting the forests surrounding settlements, slavering beasts who slaughter livestock and people alike and who revel in the blood of their kills.
And what takes the horror of the wolf one step further? – A man who turns into a wolf – a Werewolf.
In doing the research for The Carpathian Interlude, I discovered that the legend of the Werewolf was not a medieval fabrication as I had previously thought. In the ancient world, there are also references to Lycanthropes, or Werewolves.
In the 5th century B.C. the historian Herodotus wrote about a people known as the Neuri who lived in the Scythian lands:
The Neuri follow Scythian customs; but one generation before the advent of Darius' army, they happened to be driven from their country by snakes; for their land produced great numbers of these, and still more came down on them out of the desolation on the north, until at last the Neuri were so afflicted that they left their own country… It may be that these people are wizards; for the Scythians, and the Greeks settled in Scythia, say that once a year every one of the Neuri becomes a wolf for a few days and changes back again to his former shape. Those who tell this tale do not convince me; but they tell it nonetheless, and swear to its truth. (Herodotus; Histories Book IV 105)
Herodotus could be a picky historian, so for him to include this reference in his work, while expressing his own doubt at the same time, speaks to the possibility that the belief of the locals where he obtained this story was strong indeed.

But there are stories of wolf men going even farther back. The Roman poet, Ovid, writing during the reign of Emperor Augustus (the period during which this series is set), recounts the tale of the Arkadian King, Lycaon, in his famous work Metamorphoses.
King Lycaon was a Peloponnesian king from c. 1550 B.C. He was an arrogant tyrant who tried to pull a fast-one on Zeus [Jupiter], the king of the gods, by feeding the immortal human flesh. Here is Ovid's account in the god's own words:
I traversed Maenalus where fearful dens abound, over Lycaeus, wintry slopes of pine tree groves, across Cyllene steep; and as the twilight warned of night's approach, I stopped in that Arcadian tyrant's realms and entered his inhospitable home:—and when I showed his people that a God had come, the lowly prayed and worshiped me, but this Lycaon mocked their pious vows and scoffing said; 'A fair experiment will prove the truth if this be god or man.' and he prepared to slay me in the night,—to end my slumbers in the sleep of death. So made he merry with his impious proof; but not content with this he cut the throat of a Molossian hostage sent to him, and partly softened his still quivering limbs in boiling water, partly roasted them on fires that burned beneath. And when this flesh was served to me on tables, I destroyed his dwelling and his worthless Household Gods, with thunder bolts avenging. Terror-struck he took to flight, and on the silent plains is howling in his vain attempts to speak; he raves and rages and his greedy jaws, desiring their accustomed slaughter, turn against the sheep – still eager for their blood. His vesture separates in shaggy hair, his arms are changed to legs; and as a wolf he has the same grey locks, the same hard face, the same bright eyes, the same ferocious look. (Ovid; Metamorphoses, Book I, 216)
In mythology it was not unusual to find the gods punishing humans by turning them into animals, but the example of Lycaon is noteworthy. His sacrilege to Zeus, his hubris, is unforgiveable. The king of the gods could have turned the wicked mortal into anything, any animal or insect, but Zeus chose to turn Lycaon into a wolf man, a being in pain who could not be satiated, who kept his awareness despite not being able to speak. Lycaon is turned into a beast who preys upon beasts, 'terror-struck' and yet also terrifying.
There was, it seemed, always a price to pay for being turned into a Werewolf, or Lykos. It was a painful, horrifying existence.
Another example from ancient literature that stands out is Gaius Petronius' Satyricon, believed to originate from sometime during the reign of Nero in the 1st century A.D.
Petronius' work is one of the few surviving Roman novels, and it is mostly a satire of life in ancient Rome. However, one of the episodes involves a character who heads-out one night to his woman's home with a soldier friend who, as they walk along the road, turns into a Werewolf. Far from being a humorous episode, Petronius writes in detail about what happens:
I seized my opportunity, and persuaded a guest in our house to come with me as far as the fifth milestone. He was a soldier, and as brave as Hell. So we trotted off about cockcrow; the moon shone like high noon. We got among the tombstones: my man went aside to look at the epitaphs, I sat down with my heart full of song and began to count the graves. Then when I looked round at my friend, he stripped himself and put all his clothes by the roadside. My heart was in my mouth, but I stood like a dead man. He made a ring of water round his clothes and suddenly turned into a wolf. Please do not think I am joking; I would not lie about this for any fortune in the world. But as I was saying, after he had turned into a wolf, he began to howl, and ran off into the woods. At first I hardly knew where I was, then I went up to take his clothes; but they had all turned into stone. No one could be nearer dead with terror than I was. But I drew my sword and went slaying shadows all the way till I came to my love's house. I went in like a corpse, and nearly gave up the ghost, the sweat ran down my legs, my eyes were dull, I could hardly be revived. My dear Melissa was surprised at my being out so late, and said, 'If you had come earlier you might at least have helped us; a wolf got into the house and worried all our sheep, and let their blood like a butcher. But he did not make fools of us, even though he got off; for our slave made a hole in his neck with a spear.' When I heard this, I could not keep my eyes shut any longer, but at break of day I rushed back to my master Gaius's house like a defrauded publican, and when I came to the place where the clothes were turned into stone, I found nothing but a pool of blood. But when I reached home, my soldier was lying in bed like an ox, with a doctor looking after his neck. I realized that he was a werewolf, and I never could sit down to a meal with him afterwards, not if you had killed me first. Other people may think what they like about this; but may all your guardian angels punish me if I am lying. (Petronius; Satyricon 62)
Petronius' character was either drinking some heady wine that night, or else his soldier friend had other major issues.

The point of these texts is that there was an awareness of Werewolves in the ancient world, or of Lycanthropy, a psychological disease that the famous physician Galen apparently wrote about, in which a person believed they were part wolf and had the ravenous appetite to match that belief.
Now back to The Carpathian Interlude…
The Varus disaster was an unbelievable event, behind which much darker powers are at play. Throughout this series, the powers of Light (Mithras and Rome) and Dark (the Carpathian Lord and the 'Barbarians') are locked a battle that has been raging for ages.
And Gaius Justus Vitalis, his men, and the boy, Daxos, are caught up in the middle of it. The war is waged on many fronts – in the dark of the forests of Germania and Carpathia, on the battlefields of the frontier, and mostly in the hearts and minds of Mithras' own soldiers, his Heliodromus and his Miles, Gaius and his men.
This is a story that will haunt you and leave the screams of Rome's dead and dying men ringing in your ears for a long time to come, just as it did for the people of Rome over two thousand years ago.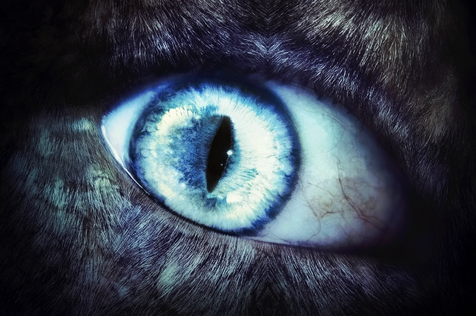 In Part VI of The World of The Carpathian Interlude, we're going into the heart of Dacia, home to some of Rome's fiercest enemies.
Thank you for reading!