It's always a sad thing to hear of the passing of an artist whose work has made a lasting impression.
It seems that every year more and more names shuffle off this mortal coil, leaving us with our own perceptions of their public face, but more so the faces of the roles they played.
This morning I found out that British actor Nigel Terry passed away at the age of 69.
Many people might not know Nigel Terry at first mention. He was not necessarily a Titan of the big screen. However, he did appear in a few historical/fantasy dramas, most notably John Boorman's 1981 film Excalibur.
I used to devour all things Arthurian, and it still is my favourite realm to visit, whether of history, literature, or archaeology.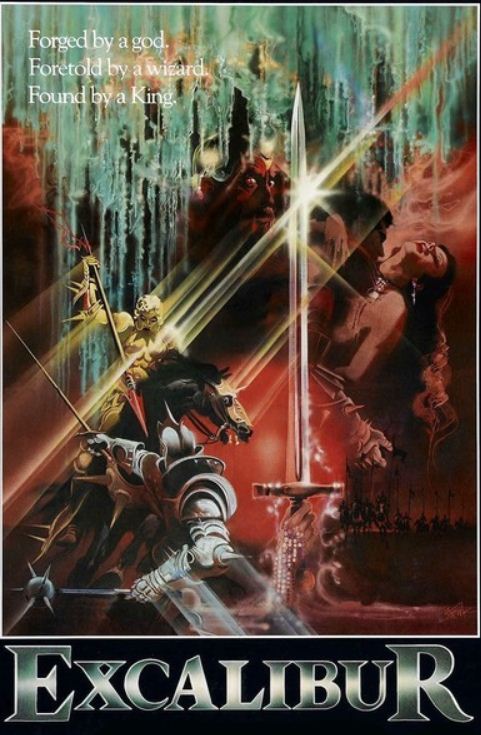 Excalibur, based on Sir Thomas Malory's Morte D'Arthur, will always be one of those movies that made a lasting impression upon me. The film brought to life the magic and mystery of the Arthurian legend like nothing else. It explored the nature of the king's relationship to the land he is bound to protect, and took you on the quest with the Knights of the Round Table, from their courageous departure to find the Holy Grail, to depths of madness, despair, and pain, to the glorious attainment of the Grail, and the final confrontation at the Battle of Camlann.
Nigel Terry's Arthur was of a different sort – naïve, daring, stern, trusting, brave, flawed, honourable. Whenever I imagine an historical Arthur in my head, it is often Nigel Terry's face that appears.
If you have never seen the movie Excalibur, and you like Arthuriana, then you should definitely watch this movie. While you're at it, see how many famous actors' young faces you can spot in the cast about Nigel Terry.
Most of Nigel Terry's work was done on stage, but I will forever remember him in historical films. Apart from
Excalibur
, he was also in the wonderful screen adaptation of the play,
The Lion in Winter
.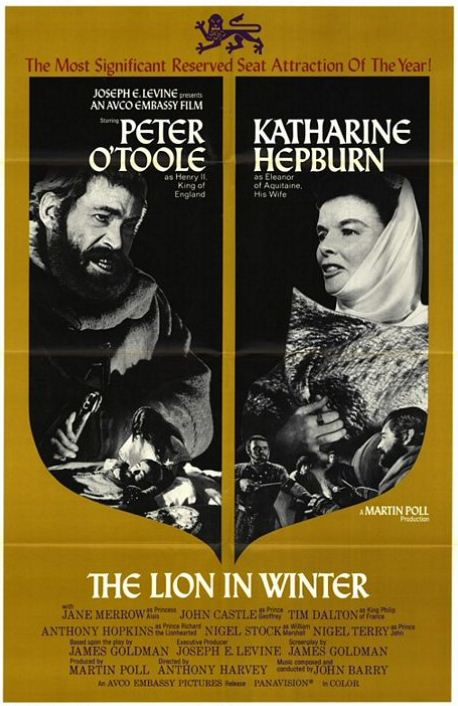 When it comes to medieval history, the 12th century has always been my favourite period, and the Plantagenets the family to watch. In The Lion in Winter, Nigel Terry plays a young Prince John, son of Henry II (Peter O'Toole) and Eleanor of Aquitaine (Katherine Hepburn), and brother to Richard Lionheart (Anthony Hopkins). You will also see a young Timothy Dalton as the French King, Phillip.
This story is set at Chinon, in France, where the royal family has assembled for Christmas court and a battle of wills and verbal sparring that is really second to none. And the young Nigel Terry certainly holds his own next to the greats of the acting world.
During the 1990's, there was an often forgotten television series called Covington Cross, in which Nigel Terry portrayed a widower knight who is trying to keep his three sons, and a willful daughter, safe from their enemies at court. Though not acclaimed in any way, I loved this show because it was a fun medieval romp, complete with drama, laughs, and of course, sword fighting. Who doesn't like that? I was beginning my medieval studies at that time and this show with Nigel Terry at the helm, was just what I wanted to fan the spark of my interest in history, a spark which eventually turned into a full-on blaze.
One of the last things I saw Nigel Terry in was the movie Troy, where he was re-united with Peter O'Toole who played King Priam.
Nigel Terry played the high priest of Apollo in Troy, and though he did not have a major role, you were drawn to his strong screen presence, despite the heavy hitters all around him.
That's the thing with historical dramatizations – there always seem to be regulars in the cast, people whom you picture more in period dress than in modernity's garb.
It was always a comfort to me when Nigel Terry's face showed up, as if I knew that I was going to experience good historical drama with some solid acting, even if it was only while he was on screen.
Now my mind floats back to the end of Excalibur where I will forever remember Nigel Terry as Arthur, grievously wounded on the deck of a solemn barge, and guarded by the three ladies of Avalon as he is carried to the sacred Isle until needed again someday.
Of course, Nigel Terry had countless more acting credits to his name than the four I have mentioned. These are but my personal favourites.
Here's to yet another fallen prince of stage and screen. He won't be the last, but he will be remembered, armour shining and sword in hand.