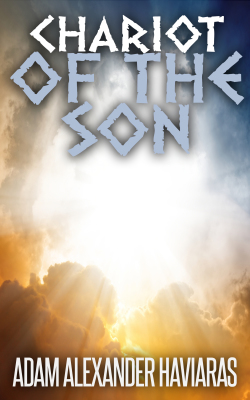 Chariot of the Son is an epic retelling of the story of Phaethon from Greek Mythology. During the age of Gods and Titans, Phaethon spends his days alone on the plains of Ethiopia, his only joy in life watching the Sun travel across the heavens. When the sad bonds of his life are about to overwhelm him, a truth is revealed to Phaethon which sends him on a quest across the world to find his place in the order of things, and to unite the family that he has never known until now. This is a story of love and loss, of deep yearning to find one's place and to make a difference in a world where even the Gods can weep.
About the Book
Chariot of the Son is the first installment in the new Mythologia series from Eagles and Dragons Publishing.
The stories of Greek mythology have touched the hearts and minds of mortals for millennia.
Now get ready to suspend your disbelief and journey through a world of wonder and beauty, of heroes, of Gods and of Titans.
Disclosure of Material Connection: Some of the links in the page above are "affiliate links." This means if you click on the link and purchase the item, I will receive an affiliate commission. I am disclosing this in accordance with the Federal Trade Commission's
16 CFR, Part 255
: "Guides Concerning the Use of Endorsements and Testimonials in Advertising."