I have a weakness for souvenirs.
Whenever I travel, I like to purchase something that reminds me of my evanescent days abroad. I don't mean tacky, mass-produced rubbish that wasn't even made in the country I visited.
I like to purchase something that is made locally, by local artists, with care and attention to detail.
One of the places I visited on my recent trip to Greece was ancient Epidaurus, home to the magnificent theatre, and the Sanctuary of Asclepios, one of the great centres of healing in the ancient world. I've been to this site a few times before, and never get tired of it. More on ancient Epidaurus in a later post.
It was a scorcher of a day on the archaeological site, the cicadas whirring, the smell of pine and wild thyme in the air. After a few hours, we left the site with one more stop in mind: the ceramic workshop and store, Ceramotechnica Xipolias.
Now, in Greece, there are many stores that sell pottery. It's one of the tourist staples. However, there are few places where you can see the actual workshop, and speak with the artists.
I visited the Ceramotechnica Xipolias on my first visit to Epidaurus years ago, and have returned other times. Their museum replicas are some of the best around, they are generous with their time, and they don't pressure you to buy while browsing.
I always look forward to stopping there and picking up a new piece…or a few. This place, to me, is like a candy shop to a child. I missed it on my last visit to Greece, so it was time to go back!
Ceramotechnica Xipolias has been run by the Xipolias family since the mid-seventies, and it is a testament to the quality of their work, and the friendliness of the people that it is still going strong.
When we pulled up in our car, it was during the afternoon lull, or siesta. The place was quiet, dark even, and I worried that we had missed the opening hours.
Luckily, the door opened and the lights flickered on to reveal rows of welcoming shelves chock-full of history. Some music came on, and out came Dimitra Xipolia, the proprietor, and one of the nicest people you've ever met. She greeted us warmly and invited us to look around.
So we did. I felt giddy as I walked among the rows of museum replicas of the Geometric, Minoan, and Mycenaean periods. The work was fantastic, so detailed, so accurate, and very affordable. I started making my mental list right away!
After a few minutes of browsing, Dimitra invited us to see how a Pythagoras cup works. I had never heard of a Pythagoras cup before, so I was thrilled to see how it worked. Dimitra told us that apparently, Pythagoras wanted his students to have equal measures of wine in class, so he invented this cup with a sort of rise in the middle and a line around the edges.
Students were to fill their cups only to the line, and so, get equal measures. But, if a student got greedy and filled it passed the line, all of the contents would leak out a hole in the bottom of the cup and onto the floor! I'm not sure of the exact science behind it, but it was fun to witness.
After that, we spoke with Dimitra about Ceramotechnica Xipolias, and she explained that all their work is made and painted in-house, by family members, and that all the paints, clay etc. are non-toxic.
After always being so careful about avoiding toxic products, I found it shocking that these lovely mugs, cups, dishes, pitchers, and so much more, were perfectly safe for everyday use, even safe for children! In addition to being non-toxic, Dimitra explained that their work is also dishwasher and microwave safe.
Once I heard that, my mental list got bigger, not just because of the beauty and quality of the work, but also because back home, it's very difficult to find such non-toxic quality at an affordable price.
I picked out a few pieces, including what I'm calling my 'writer's mug' for coffee. I love the scenes of the ancient world that are painted on their products, as they provide me with a lot of inspiration as I work. But there are also many unique pieces on display, not just historical replicas.
After I chose a few pieces, Dimitra invited me to walk around. In the pictures that are part of this post, you can see the area where the painting is done, the massive kilns where the pottery is baked, and the potter's wheel where the clay is shaped into numerous designs reminiscent of the ancient world.
Our time at Ceramotechnica Xipolias was not just about picking up a few souvenirs. It was about learning and appreciating art and ancient ceramic making techniques. Our visit was about tradition, and with such a warm welcome, it also felt like a visit with friends.
I'm glad to say that all of our pieces made it back home without a crack, thanks to Dimitra's expert wrapping.
When we have people over now, these works of art are also centrepieces of conversation. Our friends ask about the fantastic olive dish we have on the table, or the mythological scenes on our new cups. And that's when I talk about the people who made them.
In this age of mass produced-everything, it's refreshing to hold a product that is handmade with precision, care, and artistry. It's also of utmost importance these days to support local artists and industry, in Greece and around the world.
I asked Dimitra if they ship around the world, and they do, with a guarantee that if something breaks in transit, they'll replace it. With the holiday season around the corner, perhaps this is something to consider when shopping for your favourite history-lover or philhellene.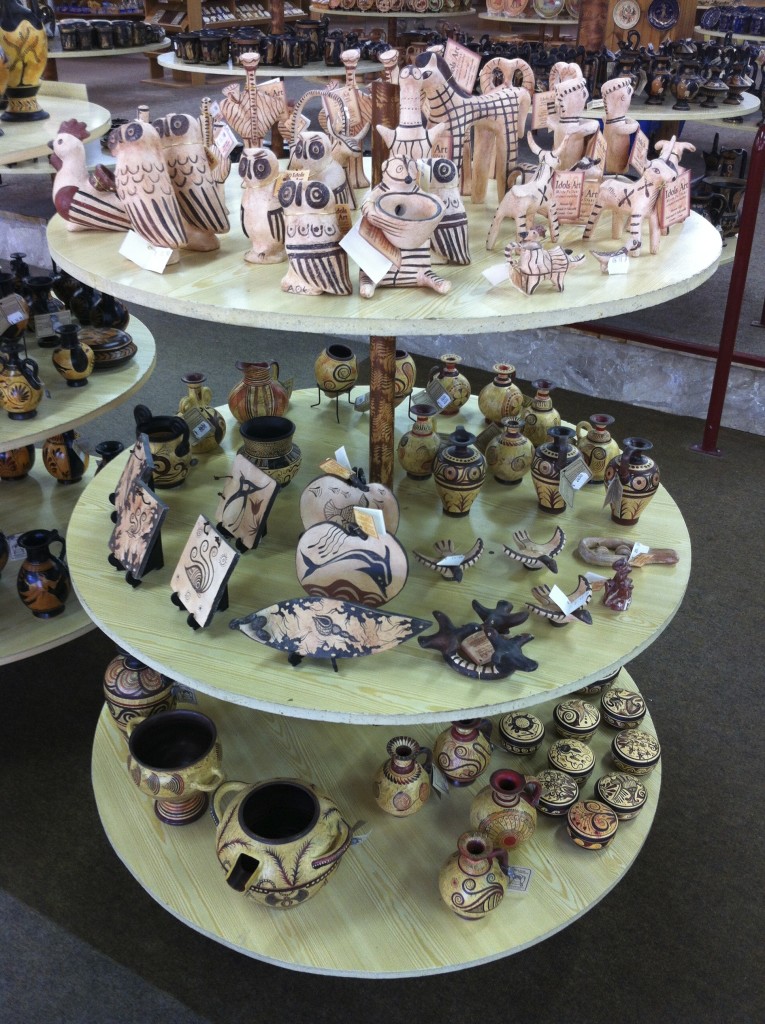 You can check out Ceramotechnica Xipolias' work on Etsy, Facebook, and on their website at www.xipolias.gr. On the website there are just a few examples of the fine work they do. As you can see in my photos, they have a lot more on offer. If you place an enquiry via the 'Contact Us' tab to let them know what you are looking for, I'm sure they'll be more than willing to accommodate.
Giassou for now!
Thank you for reading.